The word anniversary can mean many things in one form or another. Birthdays, celebrations, remembrances. This past weekend marks 15 years since I've lost my hearing. Soon, my daughter will have her 14th birthday. After that, my wife and I will celebrate 23 years together.
The Chelyabinsk meteor strike occurred one year ago, February 15. Scientists have been scrambling to explain what exactly happened and how we can be ready for it the next go round.
Picture time: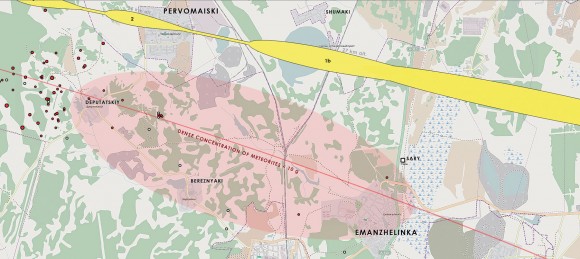 Map showing the trajectory of the main fireball in yellow (and two additional explosions at top left). The pink oval, called the strewnfield, is where the densest concentration of meteorites were found.
Read more: http://www.universetoday.com/109376/happy-1st-anniversary-chelyabinsk-the-fireball-that-woke-up-the-world/#ixzz2tbjFi2J7
Those who witnessed it experienced eye pain, temporary blindness and sunburn so bad that skin peeled. Now for the part that is going to make you pause for a second.... about 76% of the meteor burnt up before it struck the ground. If it had been made of denser stuff, such as iron or nickel, we wouldn't be having this conversation.
The link goes into how much damage it caused and how big the meteorite was. If there is one piece you take away from the scientific jargon, the people who studied the meteorites after the impact agree: it broke off of something bigger.
I'll let that sink in for a bit.
I don't want to get all pessimistic about 'the sky is falling'. We as a species are getting better at spotting these things. In fact, there's going to be a near miss tonight. Here's the link where you can watch it live.
Here is the USA Today link about the meteor that is going to miss us filled with as little scientific jargon as possible.
I want to get this posted so my friends can see the asteroid pass by around 9 PM Eastern time.
Enjoy.